Copyright Adobe Systems inc, USA.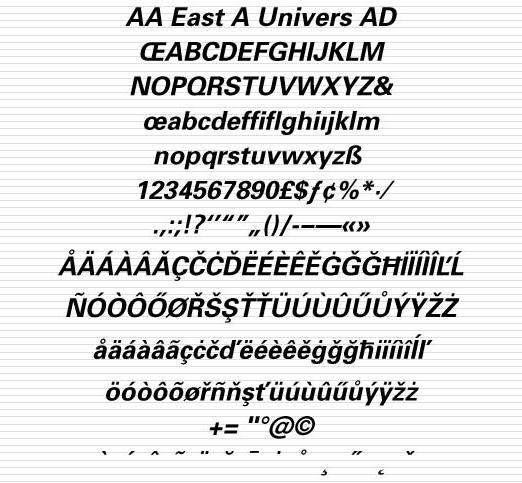 CASE STUDY: AUTOMOBILE ASSOCIATION
Brief
Since 1990, we have been working with the Automobile Association in the United Kingdom to make their own versions of the now popluar "CE" fonts. The Client needed to produce the finest maps and guide books while the cartography department also required fonts in different and unusual Operating System formats. We were commissioned to look into the possibility of having a standard set of fonts for typeset work throughout Europe for those Countires that use Latin letterforms.
Solution
The two-font solution; East A and East B fonts; cover a larger range of dialects in Europe than the standard CE fonts found on the shelves of type vendors. We work with both the AA and the respective copyright owners of the fonts to ensure permission to modify their letters forms is legal. To date, dozens of fonts have been converted to include these letterforms and we continue to expand the AA's range of fonts.

| | | |
| --- | --- | --- |
| Font Ranges | About | Support |